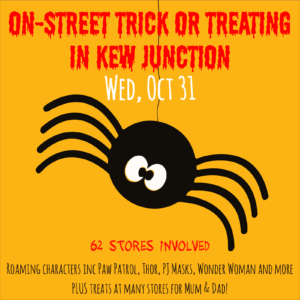 Love safe, free family-friendly Trick or Treating for you and your kids? Then don't miss the @KewJunction.Melbourne On-street Trick or Treating event on Oct 31.
There are 62 stores involved – including us! We will have treats available from the porch area at the front of Kew Vet & Cattery, 13-15 Cotham Road, between 3.30pm and 5.30pm.  We will also have some take home treats for your dogs & cats.
Spooky (and not so spooky) characters will be roaming the streets between 3:30 and 5:30pm, including Skye from Paw Patrol, Cat Boy from PJ Mask, Shine from Shimmer & Shine, Wonder Woman, Thor and plenty of Halloween characters.
Dress up in your spooky best and join us for this fun event!